Welcome to Beta
Hello, and welcome to the Alpha Chi Chapter's website.
As President, it's my pleasure to introduce a chapter that is the oldest fraternal organization at Johns Hopkins University, yet one that manages to grow increasingly exciting with each passing year.
A member of Beta is defined by a set of values including trust, honesty, and integrity. A Beta is pushed by his brothers to live a principled life. A Beta shows pride in his schoolwork and devotion to the cultivation of the intellect. This is the heritage we maintain – and work to improve – each and every day.
The Alpha Chi Chapter consistently ranks in the top of the list of fraternity GPAs. But Betas are also very active outside of the classroom, leading groups like Outdoor Pursuits, staffing the Undergraduate Orientation, and helping the community through philanthropic efforts like Relay for Life. This commitment has been continued into the greater Baltimore community by working with local parks and tutoring programs to improve where Homewood calls home.
I'm grateful to say that our efforts have earned recognition from our communities. Among the student community, Betas are widely regarded as friends, gentlemen, and scholars. Johns Hopkins's Office of Student Life has awarded our chapter the Excellence in Community Service and Philanthropy Award for four years straight. And just this year, Beta Theta Pi's national office recognized our chapter with the Knox Award, the highest honor a chapter can receive.
Our current goals look to add upon these successes and continue to improve the Alpha Chi Chapter in all its facets.
Whether you are a freshman interested in Rush, an alumni of the chapter, or a friend of Beta, I encourage you to explore our site, 'Like' our Facebook page, or check out our national fraternity's website (links below) and learn more about why it is a truly exciting time to be an Alpha Chi.
Best,
Gilbert J. Pasquale AX1137 Alpha Chi Chapter President
Fall Updates
National Recognition
Congratulations to the Alpha Chi Chapter!
The 173rd General Convention of Beta Theta Pi awarded the Alpha Chi chapter with the highest award a chapter can receive: the Knox Award. Only a handful of chapters earn this award each year and to be recognized, a chapter must excel in several criteria, ranging from academic success to community service. The Knox Award has been a longstanding goal of the Alpha Chi chapter, and we are thrilled to be recognized on a national level. We are all proud to be Betas, and on this day, we are especially proud to be Alpha Chi's.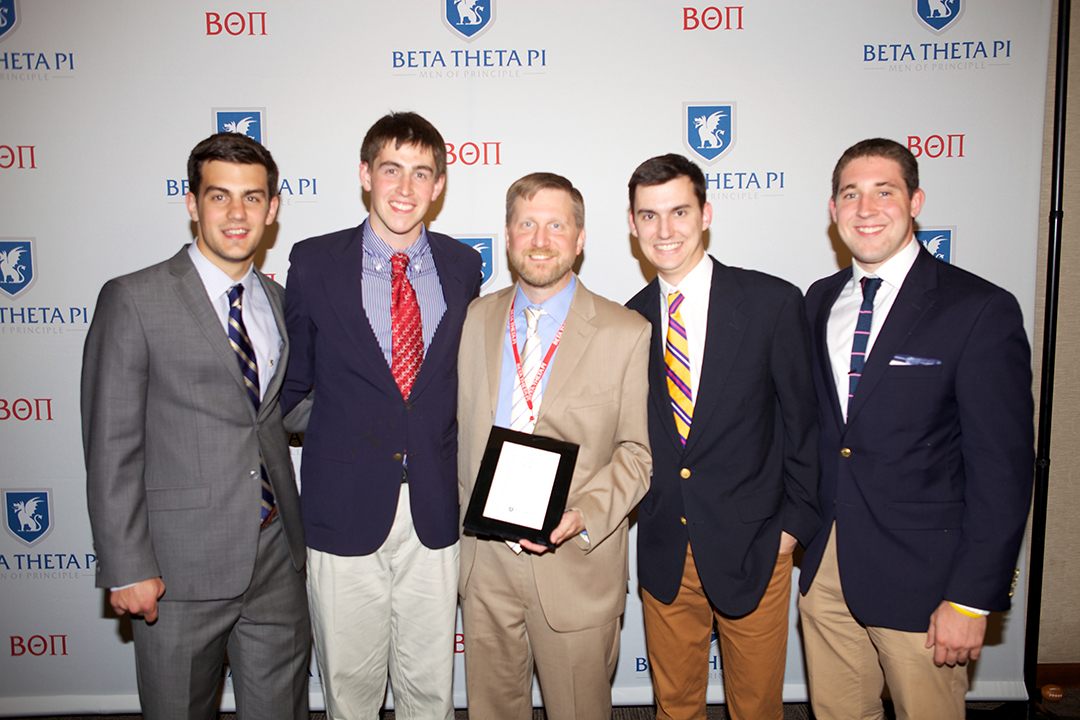 Men of Principle Scholarship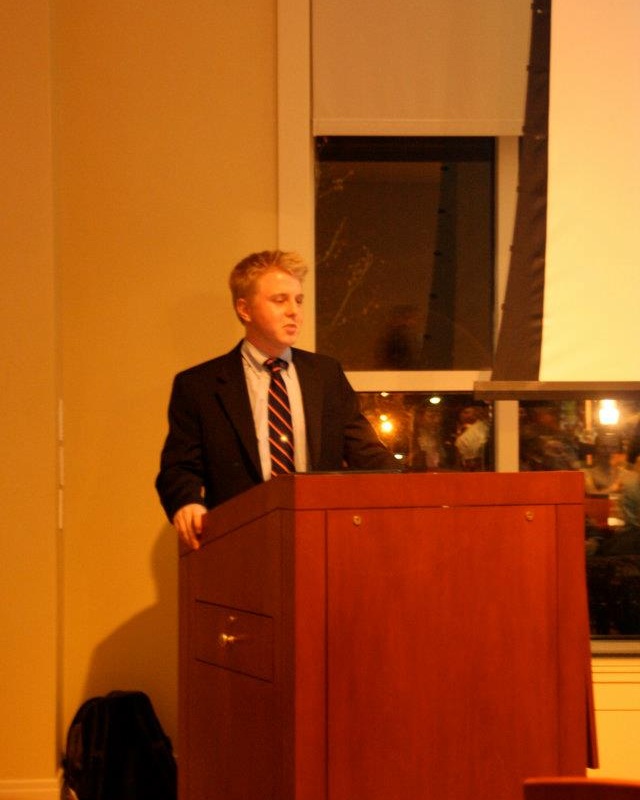 Another Year, Another Opportunity

The Alpha Chi chapter is happy to announce its annual scholarship opportunity for incoming JHU freshman. More details can be found on our scholarship page. All freshmen are encouraged to apply! Applications close in October.
At Right: Former Alpha Chi President Andrew Griffith congratulates the 2011 scholarship recipients.